Construction Data Visualization Extension
Appia® and Esri have teamed up to offer a comprehensive solution for geo-enabling your construction project data.
By capturing and visualizing construction data for project and asset management, organizations are empowered to make insight-driven decisions, supported by real location intelligence.
Explore how your organization can introduce the benefits of ArcGIS to your construction management process.
What is Construction Data Visualization?
The Construction Data Visualization Extension is the key to ensuring your construction data is GIS-enabled. Our integration between the Appia service and Esri connects near-time construction project data to dynamic ArcGIS dashboards to support insight-driven decision making. The construction process is rife with disconnected data sets and a lack of transparency between departments. Organizations leverage the Construction Data Visualization integration to eliminate project silos, extract insights, and bring accurate construction data into the asset management process.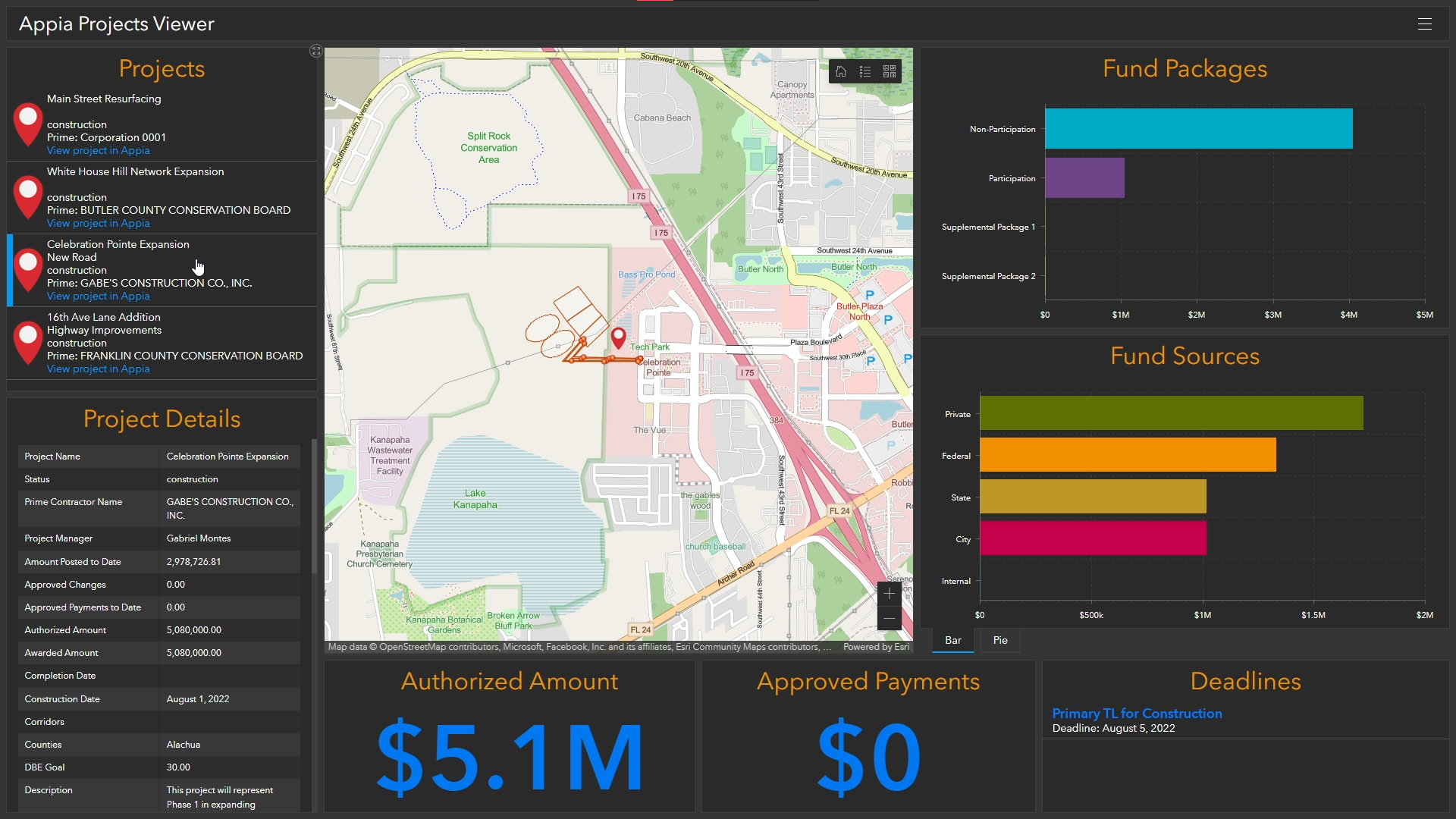 Leverage the Construction Data Visualization integration to add the following to your toolbox:
Public dashboards that provide transparency on dollars spent and progress made
Private dashboards for team collaboration and information sharing
Asset location information required for digital twin and smart city technology
Near-time data updates from field activities
Data analysis from combined sources
Build a better foundation for mapping and analysis
Benefits of using the Construction Data Visualization extension include:
Comprehensive project progress overviews
Seamlessly sync project data and location information to ArcGIS dashboards.
Instant, visual updates for public inquiries
Leverage shareable dashboards to provide funding and project progress transparency to the public and cut down on response time.
Time-saving automations and error elimination
Review near-time data from field locations and automate the data transfer back to the office to reduce entry errors or missing data points.
Connected data silos to support asset management
Geo-enabled asset management helps agencies be proactive instead of reactive while better supporting the digital as-built process and full asset lifecycle.
Improved visibility and reporting to external stakeholder
Standardize field data collection and reporting so data dashboards are easy for external stakeholders to review, understand, or confirm
How it Works
To use the Esri + Appia integration, simply connect ArcGIS to the Appia service through an authentication process. This connection will allow project locations and data to be displayed on interactive maps and dashboards.